We see a huge number of PropTech solutions that are making the home buying process slicker, easier, more cost efficient, faster, and so on; these are all extremely worthwhile and welcomed but rarely get to the crux of the housing crisis. So when Wayhome's founder Nigel walked in (virtually) and declared they'd worked out how to help ordinary people buy homes worth up to 10x income, with only a 5% deposit (in a model that includes no debt and no risk of negative equity), it was clear that this was the type of game changing disruption the industry was crying out for. They called it 'Gradual Homeownership'.
The housing crisis: how did we get in this mess?
Right now millions are locked out of owning a home in the UK, and it's only going in one direction given the average house in the UK now costs 9x average earnings. For comparison this was around 4x in 1998, a level it had hovered around since post the Second World War. So with house price growth massively outpacing wages since the Millennium, a standard mortgage of 3.5x salary (UK Finance, 2021) now leaves many stuck – especially since it now takes on average 19 years to save for a deposit without the 'Bank of Mum & Dad'. As a result, millions of people can comfortably afford to rent their ideal home but are unable to buy it. This is manifested in the number of UK renters which has nearly doubled in 20 years to 5.5 million, increasingly including families who crave the security and stability that homeownership brings more than most.
This alarming outcome is a culmination of many years of supply and demand side issues, set against a sometimes turbulent macroeconomic backdrop. Meanwhile there are a number of secular trends that have locked renters out of homeownership which boil down to three main ones:
1. Increasingly unaffordable housing: house prices are growing whilst wages are not
2. Tightening mortgage requirements: especially in light of the now infamous mini-budget
3. Millennials (and younger) becoming more financially complex: they are saddled with student debt so their debt-to-income ratio is higher
It's for this reason that we believe we need to fundamentally rethink how we provide access to homeownership in the UK and beyond. Wayhome, in our minds, can play a key part in this huge group effort that is so pressingly needed from government, corporates, academics, and startups.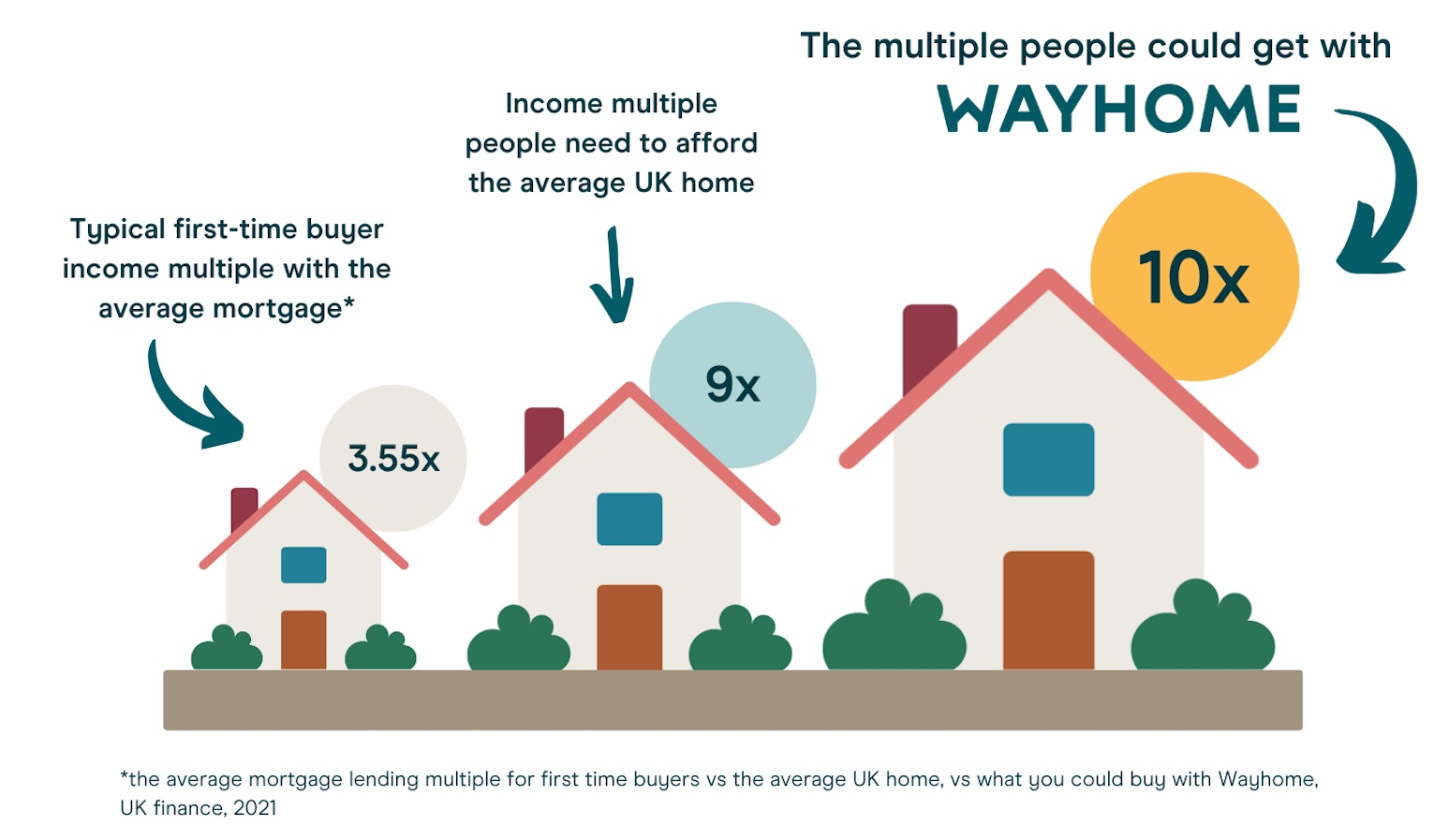 Reinventing the way we buy homes: how does Wayhome work?
Wayhome's Gradual Homeownership model helps people buy homes when a mortgage doesn't work. Customers use the Wayhome platform to find a home they love. Once they've found it, the customers buy the bit of it they can afford today, and the funding partners buy the rest (no mortgage needed). The new homeowners can then make the property their own and pay rent on the bit of the home they haven't bought yet, whilst also being able to buy more of the home as and when suits. This reduces the outstanding rent over time until the homeowners are in a position to buy the property out in full. The mechanics of gradual homeownership being tied to whether the buyers can comfortably afford to pay the rent of the funding partners portion of the property means that the equivalent loan to income (LTI) ratio is closer to 10x than the 3.5x we see in the mortgage market.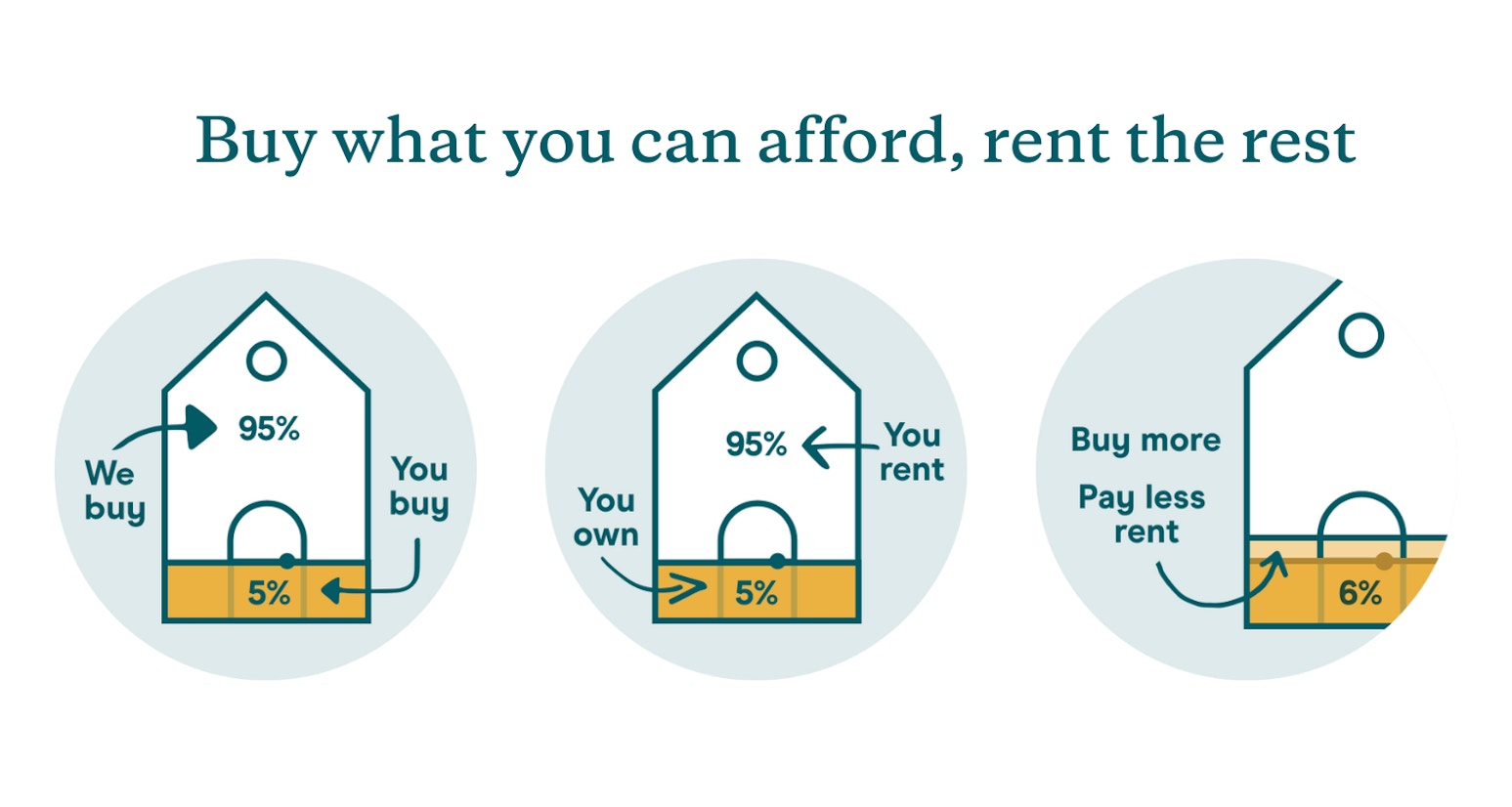 This model enables homeowners to live with security in the homes they love (benefiting too in the upside), whilst it also gives institutional investors access to a market they have historically been shut out of. Just 1% of the UK's residential housing is held by institutions (vs 8% in the US and 15% in most of mainland Europe) for a couple of major reasons, neither of which is a lack of desire from investors. Firstly, profitably managing a residential portfolio when renters are frequently on the move is extremely challenging and secondly the UK has a very diverse housing stock, based around single-family residences rather than apartments, which makes it hard to buy and manage properties at scale.
What is going on in the background to solve these challenges is also what gets us really excited as investors. Wayhome's proprietary tech platform is constantly filtering the entire market and only showing prospective buyers homes that have the best chances of working for both them and Wayhome's funding partners; it's essentially an adaptable tool that can match homebuyers desires with any investors' requirements and risk appetite. As the Wayhome team likes to say: investors know what makes a good investment, buyers know what makes a good home.
Homeownership is no longer binary:
It is also worth reflecting on what ownership means to people. For the average person a home is their only real form of savings, investment and how they build up wealth; it represents safety, security and family. Meanwhile the definition of how we own and utilise assets is changing fast; we see this in what Uber did for cars whereby the utility is about going from point A to point B so you don't need to own a car anymore. Comparatively, homeownership is still very binary. However with Wayhome, the line between renting and owning can be blurred – for many, Wayhome acts as the missing ramp onto the housing ladder they have so desperately been looking for. In Wayhome's model focussed around security of tenure, it is solving for use, experience and access, all with the (crucial) kicker of the financial upside.
In getting to know Nigel and his stellar team, we discovered that they have overcome many significant hurdles along the way with their ruthless commitment to the end goal of making homeownership a far more attainable goal for the average Brit; besides, raising significant pension fund capital to date for a completely new model is no mean feat. The fact that it is being so well-received by its early adopters (with over 250k signups and counting) is testament to much more than the slick customer homebuying journey (which is powerful in itself), but more so to a model that unlocks homeownership for people that thought it was totally unattainable. There is a theme emerging in the feedback from the homeowners: "without Wayhome, this would have been impossible", "we never thought we could own a property and Wayhome made it possible". (See more of the impact Wayhome is having here).
Alongside Volution and Cur8 Capital, we are delighted to be joining existing investors Allianz X and Augmentum as Nigel and the Wayhome team embark on the next phase of their journey to bring homeownership back to the masses.